Christian Counselors of Mooresville, PC welcomes you to our site! Are you looking for a counselor or therapist in the greater Lake Norman area? If you are struggling with depression, anxiety, relationship issues, behavior problems with children, teenager issues, marriage trouble, sex addiction, grief, trauma, or loneliness then you are at the right place! Our counselors are ready to help. Call 704-658-0238 today!
---
Vincent Ketchie, Marriage Counselor

I am a therapist who specializes in marriage counseling. I help couples to understand healthy communication and work through difficult issues. I work with adults and teenagers. My goal is always to help them to be well-adjusted and live a balanced life.
I also host the podcast Relationship Helpers with my wife Laura. We discuss topics on marriage, parenting, and personal growth. I interview experts in the counseling and helping profession in areas such as communication in marriage, sexual abuse, domestic violence, blended marriages, sexual addiction, and much more.
"I have been crucified with Christ and I no longer live, but Christ lives in me. The life I live in the body, I live by faith in the Son of God, who loved me and gave himself for me." Galatians 2:2
I am a Mooresville native, growing up in the Shepherds community. I attended the University of North Carolina at Chapel Hill. After graduation, I worked at Connie Maxwell Baptist Children's Home in Greenwood, SC.
I am a Licensed Clinical Mental Health Counselor (#8916). I received my Master's degree in Agency Counseling from Lenoir-Rhyne University in 2011. During my internships, I worked in the Delta Unit at Davis Regional Medical Center and at New River Behavioral Healthcare, which are both located in Statesville, NC. I enjoy working with men and women of all ages as well as couples.
LIFE IS DIFFICULT…
Life is difficult. It is easy to get bogged down by its complexities and lose focus. I feel that my greatest strength is being an encourager. As your counselor, I will encourage you and help you view your issues in a new, fresh light.
I am a very visual person. We will work together as a team to diagram, list, or draw out the issues at hand. At your pace, we will set realistic, achievable goals. I will utilize Reality, Cognitive-Behavioral, and Gestalt therapies.
I enjoy meeting new people. I look forward to helping you obtain the freedom and zest for life that you have always desired.
I relax by reading dense historical biographies, playing recreational tennis and basketball, petting my dogs, playing with my son, and cooking with my wife Laura.  I also paint in watercolors and design stained glass windows.
---
Laura Ketchie, Counselor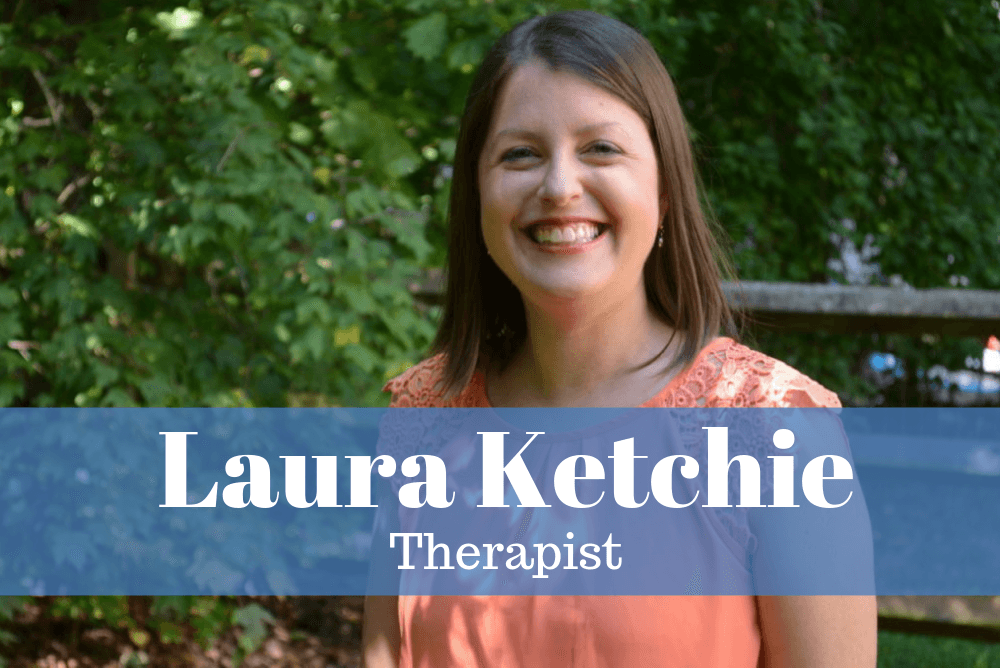 I am a Mooresville native, having grown up on Lake Norman. I have called this area "home" all my life, and am excited to have the opportunity to help others who live here. I am a Licensed Clinical Mental Health Counselor (NC#8694), having received my Master's degree in agency counseling from Lenoir-Rhyne University.
"…whatever is true, whatever is noble, whatever is right, whatever is pure, whatever is lovely, whatever is admirable — if anything is excellent or praiseworthy — think about such things. Whatever you have learned or received or heard from me, or seen in me — put it into practice. And the God of peace will be with you." Philippians 4:8-9
As your counselor, I will work with you to establish goals and learn new ways to cope with life's issues. For those interested in therapy from a Christian perspective, I will work to meet you where you are spiritually, helping to heal past wounds and working to build healthier life skills.
CHANGE DOES NOT COME EASY
Change does not come easy. I will aid in encouraging clients towards making those important steps towards change. As a team we will search for problem areas, and we will develop ways to overcome them.
As a counselor it is my responsibility to listen and to facilitate growth. It is my belief that the client has strong responsibility in the process as well. It takes work to grow, and the client must be prepared for this.
Therapy can have wonderful results, but that does not mean that we will not meet rocks and bumps along the journey. Growth requires peaks and valleys.
In my practice I will match my client with the appropriate theoretical approach(es). I am prepared to work using Reality, Cognitive-Behavioral, and Gestalt therapies. Issues will be addressed and goals will be created.
THERAPY CONTINUES AFTER SESSION…
Therapy does not end at the end of a session. A client's therapy follows him or her out into the workplace, into the home, and into the public. We will work together to create homework assignments that will improve the issues at hand in these arenas.
I look forward to finding the opportunities for growth in each and every client.  I enjoy music, musical theater, baking (I find baking "therapeutic"), reading, gardening, and spending time with my husband Vincent.
---
Below is an interview Vincent & Laura did on Curious Living Podcast